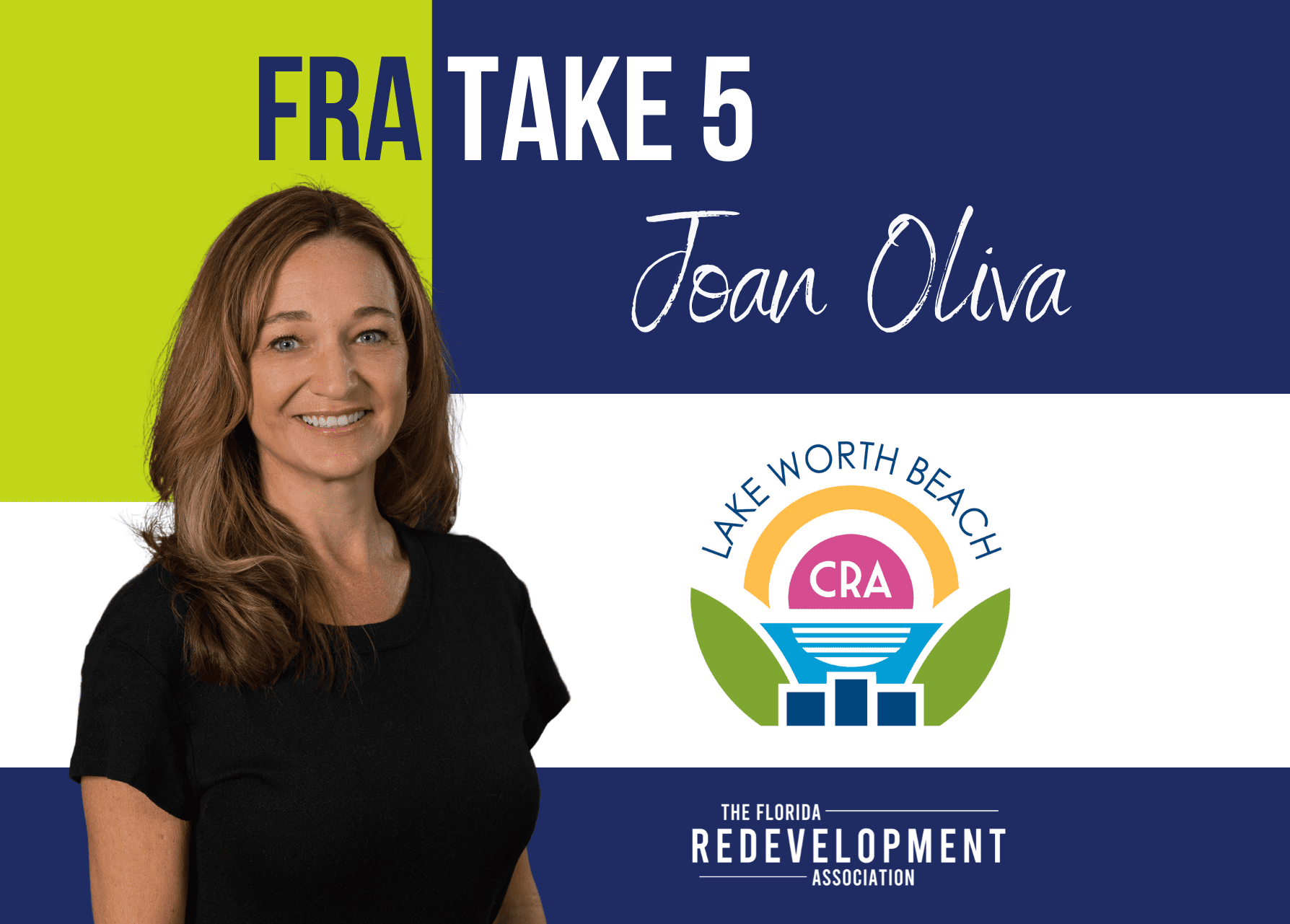 Joan Oliva
Executive Director, CRA – City of Lake Worth
Q: What is your best piece of business advice for a new FRA member?
Joan: New FRA members should take advantage of the wealth of information provided on the FRA website, FRA emails, and links to stories about other cities and towns. The FRA is a great resource for keeping up on legislative issues and best practices of economic development organizations. Ask questions and get information from other directors and leaders that will save you time and effort. You also will make acquaintances with others who understand the unique challenges of building sustainable and economically viable cities.
Q: If you had a superpower, what would it be and why?
Joan: The ability to see into the future. Often, as planners and economic development professionals, we have to make tough decisions about plans, developments, and projects, and we always hope for the best. For me, it would be interesting to see into the future and witness whether the project we are involved in has the outcome and positive consequences we intended it to have. Following that, I would have to say, telekinesis is a superpower I have always found intriguing. I am not sure it would assist in making better decisions or policy, but it would certainly be fun.
Q: We are going out for dinner/entertainment in your CRA District. Where are we going and why?
Joan: One of the many special things about Lake Worth Beach is its compact size and walkability. I would take my guest to a show at the local, historic Playhouse or for gallery night at the Hatch 1121 building. After the show, we could walk downtown and window shop until we end up at Paradiso restaurant for some out-of-this-world pasta and wine. If we still have time before the night ends, we'll have some drinks at the Beach Casino Building. We'll listen to the crashing waves and talk about all the things we are going to come back to do the next day.
Q: What do you hope to be remembered for?
Joan: Most of all, I hope to be remembered as a good mother to my two children. I have tried to balance work and home for many years now and hope I attended to their needs above all others. I also want to be remembered as someone who truly cared about the city I worked for, leaving it a better place than when I arrived. I want people to know that I tried my best to treat people fairly and with kindness.
Q: What is the most exciting part of being in redevelopment?
Joan: The most exciting part of redevelopment is that nothing stays the same. Life, development, and redevelopment are always changing and to stay relevant, an individual has to change with it. You have to keep your mind open to new ideas and learn as you are doing. Life is about taking risks and although that can be scary, you have to embrace it. We all make mistakes but we learn a great deal from them, so listen to your inner voice, be thoughtful, and take chances.