Thank you for all the award submittals! Our 2019 winners will be announced soon.
As part of this year's professional promotion package, ALL SUBMITTING entities will have the opportunity to be interviewed and videoed on the great aspects of the submittal and work of your team. Videos will be no longer than two minutes and raw footage will be given to those interviewed.
If you submitted an award and are interested in video coverage, you may contact Jessie Johnson at jjohnson@rboa.com to reserve a timeslot during the annual conference on Thursday, October 17.
For more information on this year's professional promotion package as well as view previous award winners, please see below.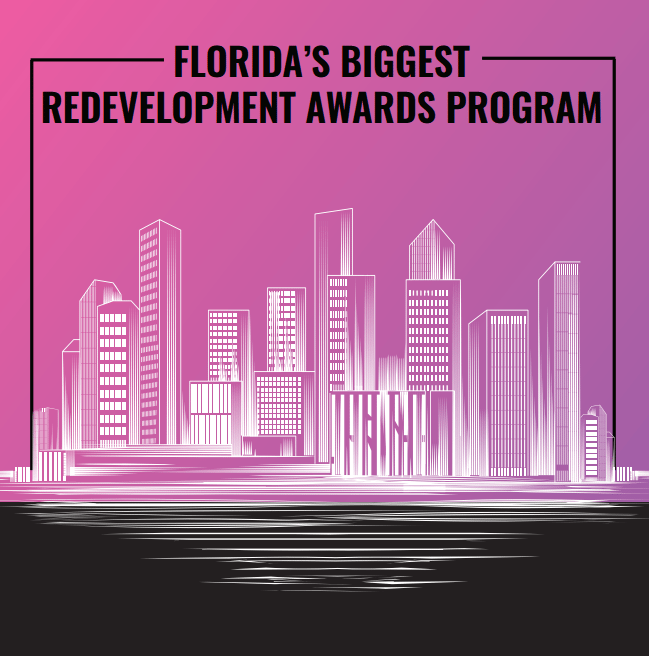 New Small Projects/Programs Category
Beginning this year, we are giving special consideration to small projects and programs. Whether your entry reflects a small part of a larger redevelopment program, or a large part of a small redevelopment program, we will look at your effort with other entries in this category. Be sure to check the box for your entry to be considered in this additional category, to all the others. Apply in the appropriate category for the project or program and we will consider it amongst that specific category, as well as your peers in small scale. So you get two opportunities to be considered as a winner! See the application for details.
FRA Members Only
Only members are eligible to apply. The entries are judged and ranked by a cross section of Florida redevelopment professionals, who are all FRA members. Click here for membership information.
$199 Application Fee
We keep the application fee very low, because we believe you get incredible benefits* just for applying.
Completely Online Process
We have made it SO EASY to apply – the application can be filled out completely online, and we are standing by for any questions you may have. We encourage you to follow the directions carefully, so your application(s) have all the chances of winning. Remember, you cannot revisit the page once you start without having to start over. If you have any challenges that you need help with, contact Jan Piland at jpiland@flcities.com.
*Professional Promotion Package Included
Win or not, as part of your application, we provide as many copies of the full-color Best Book as desired, which prominently features your nomination (or award), with details about it, and who to contact for more information. This is posted online and sent to all legislators, as well as Florida's local government leaders. We also customize a press release, share videos, promote it in all our social media, schedule local presentations by the FRA and celebrate your success with your peers, at the Hilton Downtown Tampa during the 2019 Annual Conference on the evening of October 17, 2019.
Award Winners are an Elite Group
Who doesn't want to share their successes with their peers, the public and policy makers? Let the FRA help you do this, as we put our award winning projects first when we are asked to recommend successes in Florida. We can link you to what is happening all over the state, and put a positive spotlight on your efforts. You can share your experiences with other award winners, and they with you. We announce the winners well in advance of the annual conference ceremony, so that you have time to "alert the press"! Our PR company, RBOA, is there to assist you with social media links, advise on how to frame your news, and other support. Everyone is invited to the conference presentation event, and individual tickets are available just for that night (see conference registration pages). We encourage you to attend Thursday, October 17, 2019 in Tampa, and dress up for this special occasion.
Judging
The FRA Redevelopment Awards is a statewide program that honors the hard work and dedication of individuals, communities and professionals striving to make our state a better place. From annual reports and planning studies to new building projects and beautification, we offer a variety of categories in which you can succeed. We base the judging on the effectiveness and completeness of the entry, the narrative, and compliance with the submittal instructions. A wide cross section of Florida redevelopment professionals are responsible for evaluating, ranking and selecting winners.
To review examples of great redevelopment programs and projects across the state, view our past years' Best Books: