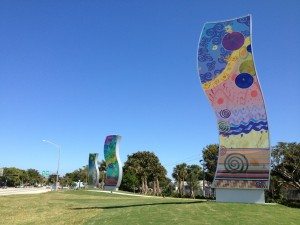 DELRAY BEACH COMPLETES DOWNTOWN GATEWAY FEATURE
CRA to hold March 14th ribbon cutting to commemorate unique public art installation
DELRAY BEACH, Fla.—The Delray Beach Community Redevelopment Agency is holding a public ribbon cutting ceremony on Thursday, March 14, 2013 at 10 a.m. to commemorate the completion of the Gateway Art Feature at the western entrance to the downtown area. The project is located in the public right-of-way along West Atlantic Avenue, between NW/SW 12th Avenue and Interstate 95. The ceremony will be held on the south side of the installation. Parking for the event will be available on SW 12th Avenue just south of the Gateway Feature, on CRA-owned property.
The $1.18 million project, done in partnership with the City of Delray Beach, was primarily funded by the CRA, which provided approximately $983,082. The balance of funds was provided by an additional $199,760 grant from the Florida Department of Transportation. Improvements consisted of sidewalks, landscaped berms, trellises, and six (6) 30-foot columns decorated with artistic mural designs.
The Gateway Feature is a result of the city's 2002 Downtown Master Plan, which incorporated community input gathered during a series of public workshops. The project signifies the City's commitment creating a seamless downtown along the Atlantic Avenue corridor from I-95 to A-1-A. The Gateway creates a substantial and visually appealing entrance to the downtown, characterizing the uniqueness, history and rich cultural heritage of Delray Beach.
The six murals that decorate the Gateway's columns are a cultural collage inspired by Delray's history, architectural elements and tropical flora and fauna, and designed by Michelle Newman. Primarily known as a textile artist, Newman is also a television personality and award-winning author whose work has been featured in renowned publications and prestigious galleries across the U.S. and internationally, in addition to being in private and corporate collections. Parking for the event will be available on SW 12th Avenue just south of the Gateway Feature, on CRA-owned property.
To learn more about the Gateway Feature or read the artist's statement, visit the CRA website at www.delraycra.org or contact the CRA office at (561) 276-8640. Michelle Newman can be contacted by phone at (210) 694-0111 or (210) 421-4335, or by email at michellenewmandesigns@hotmail.com. Photos of the Gateway Feature are available on the CRA's Facebook page, at http://on.fb.me/Lzwfio.