100% OCCUPANCY IN PROGRESSO POINT, FORT LAUDERDALE'S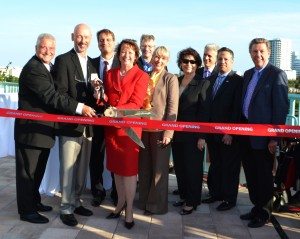 NEWEST AFFORDABLE HOUSING APARTMENTS
Fort Lauderdale, FL: – Co-developers Broward County Housing Authority and Reliance Housing Foundation recently opened Progresso Point, downtown Fort Lauderdale's newest affordable rental community. Less than 60 days after construction was completed, all 76 units in the $20 million eight-story apartment building have been fully leased.
"The speed with which the apartments were rented clearly reflects an urgent need for high quality workforce housing," said Ann Deibert, CEO, Broward County Housing Authority. "Many residents are employed in the service industry and fill jobs in downtown restaurants, retail establishments, healthcare and other professions and services."
Located in the Flagler Village neighborhood, Progresso Point is strategically positioned close to major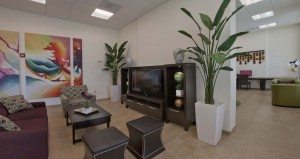 employers and public transportation. It is on a bus route, bordered by an active rail line and is within a convenient walking distance to downtown employment, government services and recreation
The apartment building offers 64 one bedroom/one bath and 12 studio apartments ranging from 500 to 600 square feet. Each features nine foot floor-to-ceiling hurricane impact windows and glass doors that open onto private balconies. An attached three-story parking garage, swimming pool, exercise room, library, and computer lab are available to all residents.
An economically and environmentally sustainable apartment community, Progresso Point is the state's first building to be approved to receive the Florida Green Building Coalition's Green High-Rise Residential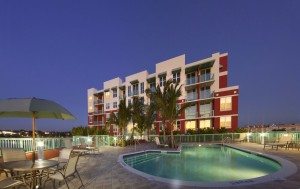 Designation. The building was built at an energy efficiency level 40 percent lower than the established Florida energy code. Progresso Point embodies Smart Growth priorities, producing affordable rental housing that benefits the environment and its residents.
As a development incentive, both municipal and county governments made vital contributions; the City of Fort Lauderdale offered an expedited permitting process, and Broward County made a financial commitment that allowed successful leveraging of additional funding sources for the project.

The Broward County Housing Authority is in its fifth decade of providing quality affordable housing in Broward County. The organization provides housing opportunities for nearly 12,000 county residents by utilizing public and private funding. It focuses on providing affordable housing through the ownership and management of properties, administration of rental subsidies and counseling of homeowners and prospective owners. For more information, visit www.bchafl.org.
Reliance Housing Foundation, founded in 1997, is a nonprofit developer of high quality affordable housing. Located in Asheville, NC, the organization operates with a hybrid business management plan, utilizing best practices from the for-profit community while strictly adhering to regulations governing nonprofit entities. Reliance has developed and preserved over $400 million of affordable housing.
For more information visit www.reliancehousing.org.