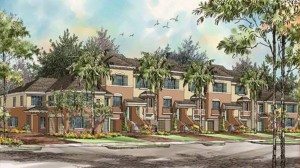 The Boynton Beach Community Redevelopment Agency (CRA) has teamed up with developer Cornerstone Group to include affordable housing at The Preserve, a new master-planned luxury condominium and townhome community under construction in Boynton Beach.

Through the joint financing effort, income-eligible buyers can qualify for as much as $160,000 in financial assistance on a condo or townhouse. With up to $60,000 developer contributions, up to $50,000 in funds from the State Housing Initiatives Partnership (S.H.I.P.), and another potential $50,000 from the CRA's Homebuyer's Assistance Program, the price on a $279,990 three-bedroom condo can be reduced to as low as $119,990.


"The Boynton Beach CRA is intensely committed to pursuing every opportunity to create affordable housing in our community," said CRA Chairman Henderson Tillman. "With our Homebuyer's Assistance Program and partnerships with developers like Cornerstone Group, we're removing some of the obstacles that Boynton Beach residents face as they try to get out of rentals and into homeownership."


Located at 1801 NE 4th Street, The Preserve will have 180 two and three-story townhouses and condos at market rate prices ranging from $279,000 to $299,000. There will be 50 units set aside as affordable housing for people who meet certain income guidelines. Applicants' income cannot exceed 120 percent of Palm Beach County's median household income relative to family size. For a family of four,that would be $77,280.


"In today's high-priced housing market, middle income workers like teachers, police officers, and nurses are often frozen out of homeownership opportunities that offer an excellent quality of life for them and their families," observed Tillman. "The Preserve is an example of what is possible when developers and local leaders work together to find solutions to critical issues like the affordable housing shortage."


Designed around a park-like setting, The Preserve's condos and townhouses range from 1,398 to 1,994 square feet in two-and-three bedroom models. The project's amenities include a decorative entry into a gated community, clubhouse and pool, and children's tot lot.

For financing qualification information, call Barbara Sanford, The Preserve sales manager, at 1-866-740-3111 or 561-706-3525. For more information on The Preserve, visit the on-site office at 1801 NE 4th Street (south of Gateway Blvd.), Boynton Beach, or log on to
www.preserveboyntonbeach.com
.  To apply for homebuyer's financial assistance, call the Boynton Beach Faith Based Community Development Corp. at 561-752-0303. For more information on homebuyer's assistance, log on to
www.boyntonbeachcra.org
and click on "What's New."


Cornerstone Group is a Coral Gables-based developer that has built more than 16,000 apartment and condominium units throughout Florida.

The Boynton Beach Community Redevelopment Agency (CRA) is committed to serving the community by guiding redevelopment activities and stimulating economic growth within its 1,650 acre district.  The organization focuses on creating a vibrant downtown core, providing affordable housing, and revitalizing neighborhoods.  For more information on the CRA, its events and activities, call (561) 737-3256 or visit
www.boyntonbeachcra.org
.