FOR IMMEDIATE RELEASE CONTACT: Katerina Gerakios-Siren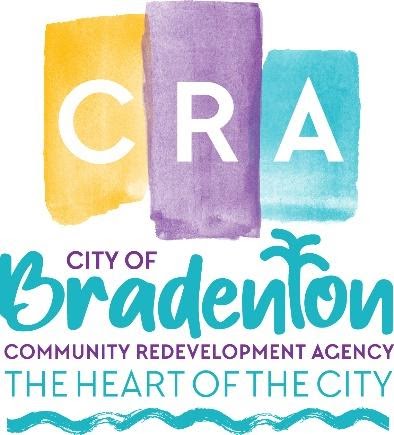 March 3, 2021 katerina.gerakios-siren@cityofbradenton.com
941-932-9486
New Community Redevelopment Agency Logo
BRADENTON, FL – The Community Redevelopment Agency of the City of Bradenton, Florida (CRA) has approved a new logo that reflects the agency's goals and vision.
CRA Executive Director Katerina Gerakios-Siren, appeared before the CRA Board and presented four different logos that were developed in conjunction with Realize Bradenton, a non-profit organization that promotes community building and economic prosperity to shape a city where people want to live, work, play, and contribute to the city's success.
The new logo aims to reinforce that the three CRA districts (the 14th Street CRA, the Bradenton CRA, and the Central CRA) are truly the heart of the City of Bradenton. Mrs. Gerakios-Siren highlighted how the design and colors of the logo connect the CRA districts with the City of Bradenton's most treasured assets (water, vibrancy of the community, and nature).
Patrick Roff, Chair of the CRA Board which is comprised of the five City Council members said "Community redevelopment is the most difficult and most rewarding of all government enterprises. Our new logo shows a forward thinking for the task that lays before us: urban redevelopment".
"A community that pursues sustainable results is built on partnerships," states Johnette Isham, Executive Director of Realize Bradenton. "When people work together, we can fully realize a vibrant, healthy, inclusive, and fun community for all."
For additional information on the City of Bradenton CRA, please contact Katerina Gerakios-Siren at 941-932-9486.