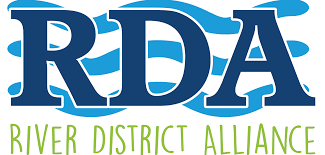 River District Alliance Executive Director Description & Objectives:
The River District Alliance (RDA) is currently searching for an Executive Director. This role will be responsible for managing all aspects of the non-profit merchant organization and lead its future growth and direction within the redevelopment district.
The Executive Director must be a reliable self-starter with dynamic communication skills. This role reports to the Board of Directors and must guide the future direction of the RDA while also implementing Board directives. Regular and positive interface with businesses, committees, and general membership, Fort Myers Community Redevelopment Agency (CRA) Commission and city officials is critical. Oversight of more than 50 free and family friendly events with staff support is also a key element of the role as well as generating funding.
The role is a full time salaried position and may include after business hour work (9 am – 5 pm weekdays). The Executive Director is expected to attend before/after hours and weekend meetings and certain events.
The Executive Director must be able to function with considerable independence on a day- to-day basis in performing job related activities and is held accountable for results.